Points of Influence: LGBT Students, Social Change, and You
Day-Long Institute

University of Vermont, Davis Center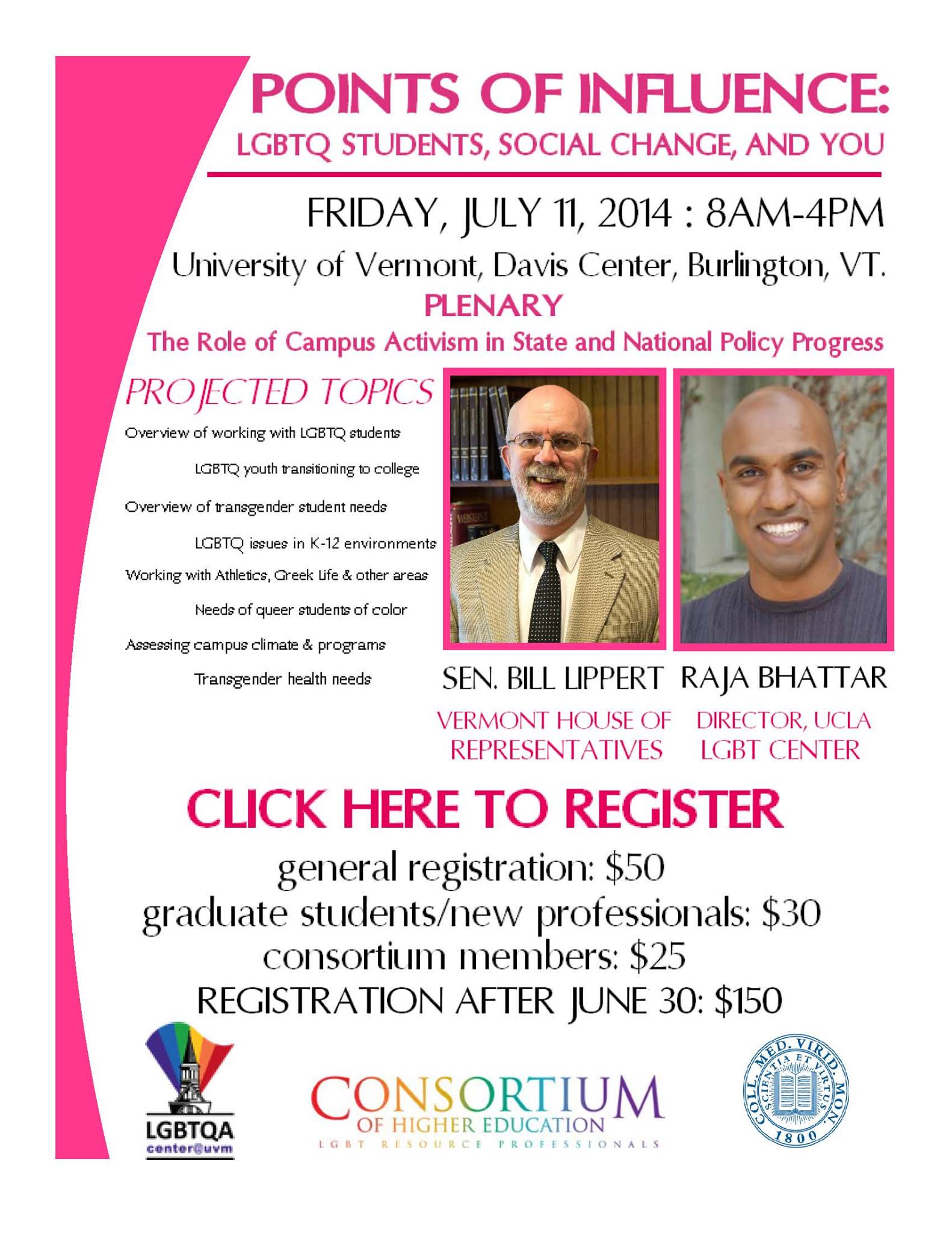 Registration is now closed for this institute.

The Consortium of Higher Education LGBT Resource Professionals, in conjunction with the University of Vermont, is proud to offer a unique educational opportunity to higher education professionals in the Northeast region. At our day-long institute, professionals are invited to connect with colleagues across the region, discuss emerging trends in lesbian, gay, bisexual, transgender, and queer (LGBTQ) student services, and share knowledge and struggles regarding specific campus policies.
Learning Outcomes
Describe relevant and emerging information on trends in LGBTQ student services
Develop collaborative structures for networking across the Northeast region
Engage in critical discussions and problem-solving about regional, local, and campus-specific policies
Define strategies for creating and maintaining durable and sustainable campus partnerships
Who should attend?
Higher education professionals and administrators seeking to better serve LGBTQ campus communities
Student affairs graduate students seeking to increase skills and knowledge to better serve LGBTQ students
Registration
Registration includes lunch and all conference materials.
General registration is $50, and registration for Consortium members is $25
Online registration closes on June 30.
After June 30, a limited number of onsite registrations will be available for $150.
About the Consortium
The combined vision and mission of the Consortium is to achieve higher education environments in which lesbian, gay, bisexual, and transgender students, faculty, staff, administrators, and alumni have equity in every respect. Our goals are to support colleagues and develop curriculum to professionally enhance this work; to seek climate improvement on campuses; and to advocate for policy change, program development, and establishment of LGBT Office/Centers.
We represent nearly 600 members worldwide, across a wide range of college, university, and non-profit contexts. Our all-volunteer board is committed to anti-racism, social justice, education, and inclusion.
For more information about the institute, contact Shaun Travers, Education Chair at education@lgbtcampus.org