Nominate someone for the 2018 award today!
The Consortium celebrates three awardees a year, from five categories of awards. To nominate someone for one of our awards, email support@lgbtcampus.org with a letter explaining why the nominee exemplifies one of this year's categories.
Award Categories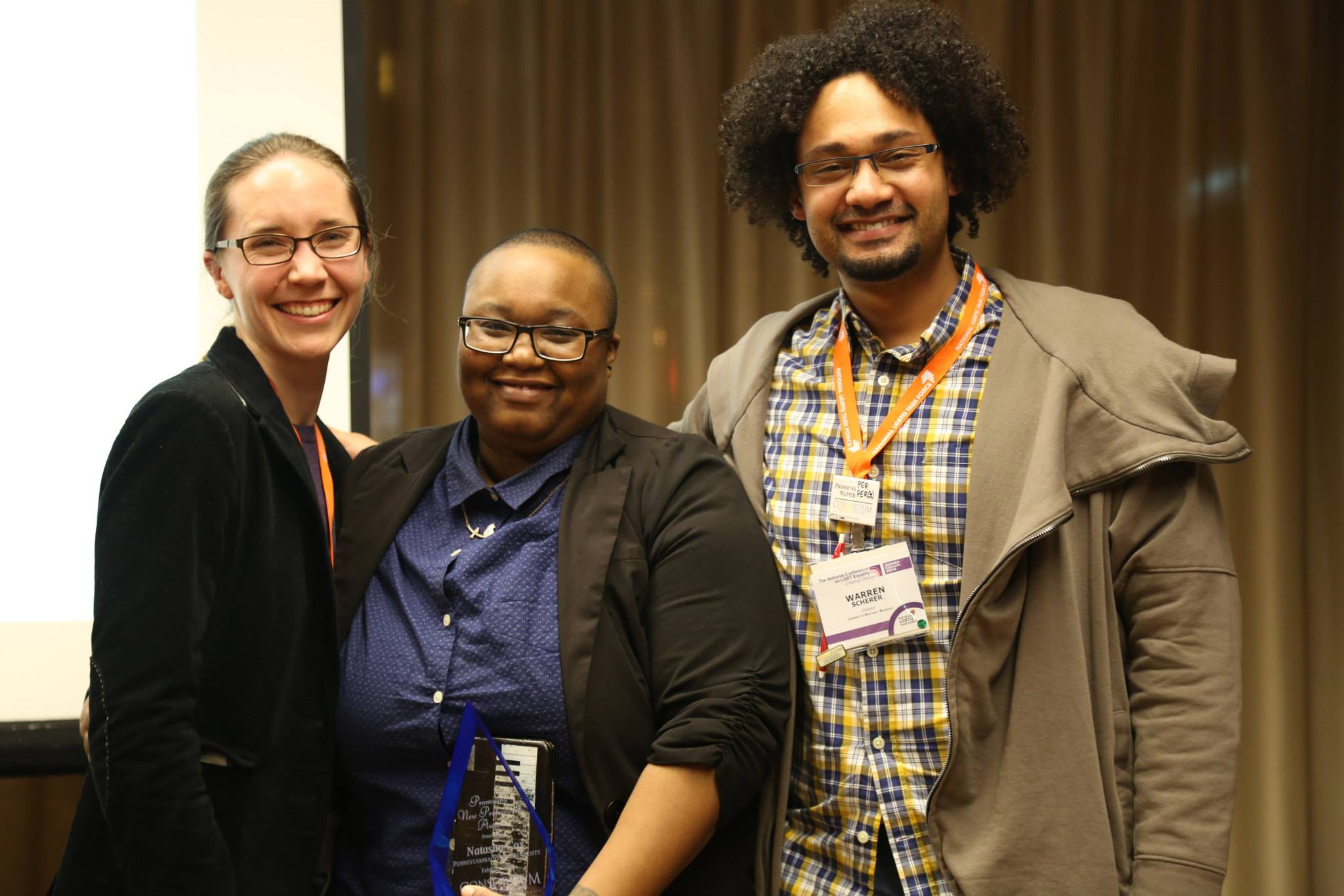 The community of LGBTQ higher education resource professionals is comprised of a vast array of dedicated individuals committed to enriching the lives and campus climates for LGBTQ people and their allies. It is only appropriate that we are able to recognize the durable and sustainable impact that we all have at our institutions.
Last year, the Consortium community recognized Dr. Genny Beemyn, Leslie Morrow and Natasha Cox for their achievements in the work. These awards, presented at Creating Change Denver, continue to mark milestones for the Consortium in its goal to recognize those who have, and who continue to, create change.
This year we are proud to invite nominations for the following three awards:
Service to the Consortium
The award is designed to recognize and honor individuals who have provided exemplary service to the Consortium over a number of years through assuming a leadership role. Awardees will have demonstrated involvement in organizational programs and activities, including the support of Consortium members.
Exemplary nominees for this award have held many, varied leadership roles within the Consortium and show involvement in a variety of activities and programs that support Consortium members.
Promising New Professional
This award recognizes the unique role new professionals play in paving the way and opening new opportunities to take an LGBT Center to the new level. The award recognizes a new professional who is doing enthusiastic, passionate, and ground-breaking work. For the purposes of this award, a "New Professional" is defined as having five years or less of service to the field.
Exemplary nominees for this award exhibit:
- work that has created and assessed marked change in a campus center, office, or unit that provides direct service to LGBTQ people on campus
- work that impacts local campus and LGBTQ people on a regional and national level.
Outstanding Social Justice Practice
This award recognizes significant commitments to social justice in both the field of Student Affairs as an academic discipline and through advanced practice in a professional capacity. This includes research, published work, advocacy, policy change, advising and/or mentoring student organizations, curriculum creation, best practices, and other work that addresses the intersecting identities of race, class, sex, sexual orientation, gender identity and expression, ability, national origin, age, familial status, veteran status, and other emerging identities.
Exemplary nominees for this award:
- have contributed to the practice of socially just, intersectional practice in LGBTQ student services with clearly defined accomplishments and documentation
- have contributed to the body of literature regarding intersectionality in the academy
- have successfully worked with and across multiple communities/identities to make change
----------------------------------------------------------------
Nomination Requirements and Timeline
The nominator should submit the following materials in support of their nomination:
Nominator Information

First and Last name in use

contact email

contact phone

Institution and Role/Title

Nominee Information

First and Last name in use

contact email

contact phone

Current institution and Role/Title
Completed nomination materials are due by end of business on Friday, October 30, 2015.
Review of materials will take place during the first few weeks of November and notifications to awardees will occur no later than December 1, 2015.
Awards will be announced in January 2016 and presented during Creating Change in Chicago.
Read on to learn about our past award recipients.
2017
Sheltreese D. McCoy - Outstanding Social Justice Practice Award
Kasey Catlett, M.Ed. - Promising New Professional Award
Dr. Luke Jensen - Distinguished Achievement in the Profession Award
2016
Nicholas Shigeru Sakurai - Outstanding Social Justice Practice Award
Cara Miller, Ph.D. - Promising New Professional Award
Debbie Bazarsky, Ph.D. - Service to the Consortium Award
2015
Genny Beemyn - Research and Assessment Award
Leslie Morrow - Award for Intersectionality
Natasha Cox - Promising New Professional